STORM DRAIN INSTALLATIONS
EXPERT STORM DRAIN INSTALLATION & REPAIR ON COMMERCIAL AND RESIDENTIAL TRACT PROJECTS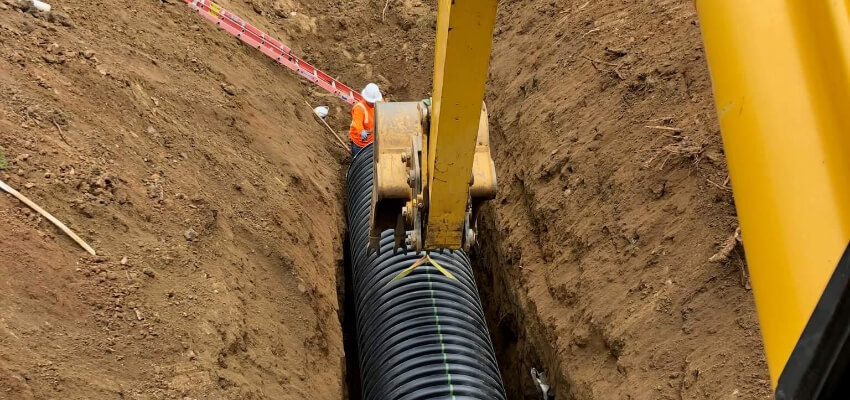 Expert Storm Drain Installation & Repair on Commercial and Residential Tract Projects
Storm drain systems are an essential part of our infrastructure. They help keep roadways safe and residential areas from flooding. Not having a storm drain or improper installation can cause significant flooding and damage to buildings or roadways. Storm drain installation requires an in-depth knowledge of district and state regulations as well as industry expertise.
At Patriot Pipeline, Inc., our highly-skilled field staff are well-versed in storm drain installation. Since 2003, we have been working with developers and property owners to install everything from small 4" plastic drains to large-scale concrete pipes, structures, and detention systems.
If you need to install a storm drain system in your commercial or residential project, contact our office today for a bid or estimate.
Full-Service Storm Drainage System Installation
With Patriot Pipeline, you get more than a fully-licensed, well-trained contractor; you get a project management team that works with you to complete your project on time and within budget. We aim to provide you with cost-effective solutions that save you time and money.
When you work with Patriot Pipeline, you get:
A highly-trained team of experts
On-site employees with multiple safety certifications
Design coordination and verification
Field inspection
Third-party, independent safety evaluation
Quality control testing
Environmental compliance
Improper installation is one of the most common causes of storm drain damage. You need a team that can get the job done right. At Patriot Pipeline, Inc., our professional crew will ensure that your system is installed correctly.
Responsive, Reputable Storm Drain Contractors
From our office staff to our on-site field crews, all of our team is extremely responsive. We take a proactive approach to challenges, ensuring that projects never get sidetracked by all-too-common obstacles.
At Patriot Pipeline, we believe in efficiency and have invested in heavy construction equipment to make sure that the installation is done as quickly as possible, involving fewer subcontractors.
One of the most significant advantages of working with Patriot Pipeline is that you will never have to "manage" our team. We are fully-equipped to handle any job and provide highly-motivated, well-trained staff at every project.
Trusted Leaders in the Industry
If you need to install a storm drainage system at your next project, put your trust in Patriot Pipeline. Our contractors are industry leaders with decades of experience. They will provide you with an accurate, detailed estimate based on your needs. Our project management team can also provide input on how to complete your project more efficiently, potentially ahead of schedule.
In addition to the basic storm drain piping, we can also provide:
Manholes
Catch basins
Curb inlets
Precast treatment devices
Detention systems
Retention systems
Other structures that may be required
Storm Drain Not Working? Call Patriot Pipeline for Expert Repair
If your storm drain is clogged or not working properly, Patriot Pipeline can provide you with the fastest and most cost-effective solution for getting your storm drain back up and running.
Contact our office immediately to have a team member make an on-site assessment. Whether you need a simple storm drain repair, such as emptying the catch basin, or you need to replace the stormwater drain completely, we can help.
We offer innovative solutions, saving you time and money. Our well-trained staff will provide you with an honest assessment of the best route to take in order to get your storm drain running properly.
Call Patriot Pipeline Today to Schedule an Appointment
Do you need to install a storm drain system at your commercial or residential project? Patriot Pipeline can help. Contact our office today at (951) 679-8364 to speak with a knowledgeable team member that can provide you a bid for the scope of work or send a crew to complete an on-site evaluation.
While we specialize in underground utilities for mid-to-large scale commercial projects and residential tracts, we have worked on projects large and small. We believe that our success depends on our client's success. Find out more about our all-inclusive storm drain installation packages today.